/

Rustic Vegan Cooking Class

Plant-Based Cooking Experience

MORNING / EVENING CLASS: PER PERSON $48

9.00am / 3.00pm
Being vegan in Sri Lanka is as easy as pie. Sri Lanka's culture, predominantly influenced by Buddhism, largely encourages and supports veganism with its non-harming concepts. Hence, over the generations, Sri Lanka has invented a wide array of vegetarian substitutes to obtain the necessary nutrition that the body needs. Rustic Vegan cooking class Sri Lanka shows you how Sri Lankan cooking culture has developed its own methods and techniques to prepare thousands of vegetables in several different ways to give a diverse taste. Additionally, Sri Lanka has some unique leafy salads made out of some leaves you can never ever imagine. Believe it or not, they are exceptionally delicious too. Join with our Vegan cooking class Sri Lanka & experience all you need to know about vegan Sri Lanka.
Sri Lanka is the 4th most vegetarian country in the world, Rustic Vegan cooking class Sri Lanka can offer extensive experience on a wide variety of vegetables available in Sri Lanka. Our expert chef cum guide will give you a detailed explanation of those vegetables, their nutrition values and possible different ways of cooking them at the market allowing you to select your own vegetables as per your preference. Get the hands-on experience of cooking them in your favourite way with the expert guidance of our chef. Book your rustic Vegan cooking class Sri Lanka.
Start Time
9.00 am / 3.00 pm
Meeting point
Pls Contact Us
Local Cash Needed
For Extra Beer, Tips
Acitivity
Market Visit, Hands-on Cooking, Dining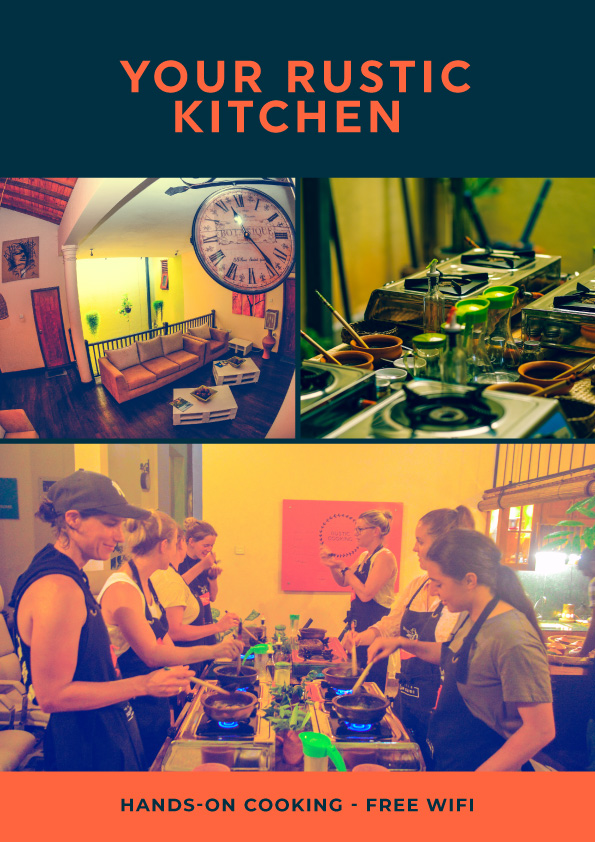 01Meet our chef cum food tour guide & get the brief prior to rustic Vegan cooking class Sri Lanka.
02Just take walk around the place to get a high-level understanding of the marketplace and what a market looks like in Sri Lanka. Vegan cooking class Sri Lanka Starts with the vegetable section where lots of vegetable varieties of vibrant colours available in bulk. Our guide will give you a detailed description of what you find on your way and you can pick your favourites to cook at the class. You will get necessary breaks to get your confusions clarified and absorb the set up of the market. So, please feel free to ask anything from our expert guide.
03In Vegan cooking class Sri Lanka, Additionally, you will get the chance of seeing different kinds of colourful spices of various texture with an explanation on their usage in cooking.
04At the end of the market tour of Vegan cooking class Sri Lanka, you will be transferred to Our Rustic Home, where you will be cooking your own meal with the help of our chef. Learn the tips and tricks of Sri Lankan cooking, different techniques and methods, traditional tools used and most importantly the use of coconut milk as it plays a key role in our food.
05After the cooking is done you can prepare for having the lunch or dinner with the chef, who will share a lot of knowledge on Sri Lankan cooking, its culture and some background stories which helps to understand and get closer to Sri Lankan folks while you are on your tour. It will be a lengthy meal with lots of experience sharing and stories depending on your time.