/ Last Update : 2023/05/31
Extend Visa in Sri Lanka
If you're looking to extend your visa in Sri Lanka, it's important to note that obtaining the Electronic Travel Authorization (ETA) before arrival is a mandatory requirement for all travelers
How can I extend my Sri Lanka visa?
There are two methods to extend your Sri Lanka visa:
In-Person Application:
To extend your visa, you need to submit an application to the visa section of the Department of Immigration & Emigration (Head Office). This can be done by visiting the department in person.
Online Application:
Alternatively, you can also apply for a visa extension through the online visit visa extension portal called e-Visa Extension. This provides a convenient and efficient way to extend your visa without the need for an in-person visit.
Can I apply for another visa before it expires?
If you are a tourist who entered Sri Lanka within the landing endorsement period granted by the authorized officers at the port of entry, you can apply for a visa extension before your current visa expires.
How many times can a tourist visa be extended?
In the first instance you can get an extension of up to 90 days from the date of arrival.
Secondly, another 90 days summing up to 180 days from the date of arrival.
Documents Required for Extending a Visit Visa:
If you have obtained a short-term visit visa, you must acquire the Electronic Travel Authorization (ETA) before entering Sri Lanka. Foreigners should not enter the country without obtaining an ETA.
For a Tourist Visa, the following documents are needed:
✓ Return air ticket.
✓ Address and telephone number of the place of accommodation.
✓ Completed application form with a photograph of the applicant.
✓ Valid Passport.
It is compulsory for the applicant to be present during the application and collection of the visa. This requirement is applicable only for those submitting applications at the Department of Immigration and Emigration (Head Office).
For a Business Visa, the following documents are required:
✓ Completed application form with a photograph of the applicant.
✓ Request letter from the business institute/company/agency to extend the business visa.
✓ Valid Passport.
✓ The relevant person or an authorized representative from the business institute should be present to collect the visa.
By following these guidelines and providing the necessary documents, you can smoothly extend your tourist visit visa in Sri Lanka.
Key Details
New Immigration office sri lanka Address & Route
If you plan to visit the immigration department in person and prefer to handle the process on your own, here is a comprehensive DIY guide to help you through the process. Your Visa Extension Sri Lanka Address: 4th Floor, Suhurupaya, Sri Subhuthipura Road, Battaramulla.
Sri Lanka Visa Extension Photo Size
Sri Lanka Visa Extension Photo Size : 35mm ( Width ) x 45mm (Height). Head must be between 70 -80 from the bottom of the chin to the top of the head. The background should be white. Photos must be in high-resolution colour taken in the last 6 months. You need to take the photo with a neutral expression. Wearing Glasses and head-wear are not permitted except religious or medical reason.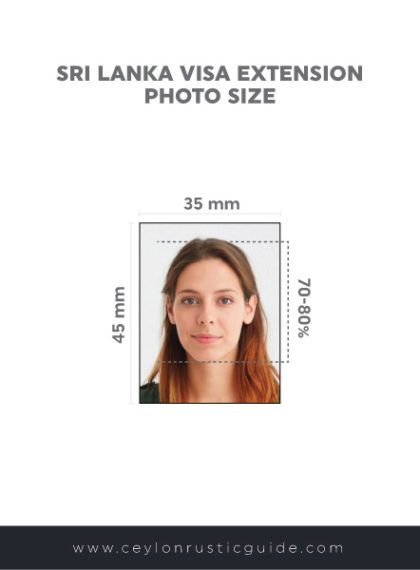 Sri Lanka Tourist Visa Extension Fee
Documents
So, let us begin with the list of what you need there
• Duly filled an application form
• 1 Passport photo
• Passport
• Return ticket (optional)
• Cash / credit card for visa extension fee
It will be a lot easier if you do your homework before going there.
Download Here Sri Lanka Visa Extension Application Form , print it and fill it properly. Take the photo and paste it on the appropriate place of the application.
But, don't worry if you couldn't. You can take the application from there and fill. There is a photo counter too.
When to Go
The office is open Monday to Friday from 8.30 AM to 4.30 PM. But earlier you go, lesser the time you spend.
However, you will have to spend some time waiting for your passport to come back. Hence better to be prepared with some entertainment, snacks and water.
Our Experince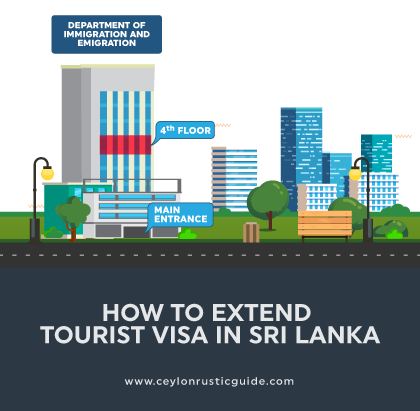 We understand the challenges and concerns involved in extending visas in Sri Lanka. Being located near the visa office, we have hosted many guests who have gone through this process. Their questions and expressions reflect the confusion involved. Therefore, as a group of tour guides, we aim to share our knowledge and make the visa extension process in Sri Lanka easier for you.
DIY Guide to Extending a Visa in Sri Lanka in Person
4th Floor } immigration office sri lanka
01.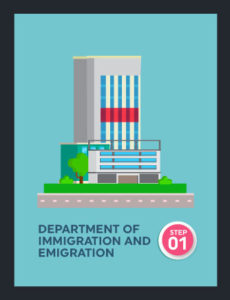 You will be right there at the entrance to the Department of Immigration and Emigration to extend visa in Sri Lanka.
Just follow the crowd and enter the building through the doors on your left. Walk to the back of the busy waiting area and take the exit to your right hand.
Cross the small street and head up to the building where your office is in. Enter the building from the first glass door.
Walk up to the elevators passing the front desk and take the elevators on your right hand side to get to the 4th Floor of the building. (You can NOT take the elevators on your left as they cater to floors above 9th level)
Tip : Try to be there by 8.30 AM itself to avoid any delays.
02.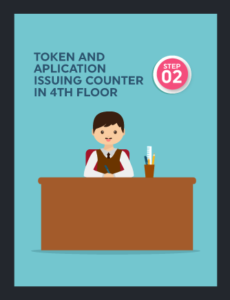 Take the right turn, walk up to the Visa division and enter the room passing the sign board which says "Welcome to the Visa Division". Here you have to follow few steps to extend visa in Sri Lanka
If you already have the duly completed application form along with a passport sized photo attached to it then there is nothing much to do here.
Just hand the application over to the Token Issuing Counter that you find as soon as you enter the Visa division and obtain a token.
Don't forget to take the application back with you!!
.
03.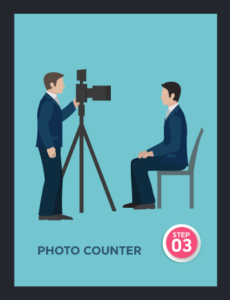 If not, take an application from the Token Issuing Counter. Fill it properly and proceed to the photo counter to take a photo.
Then show the filled application along with the photo back to the Token Issuing Counter and obtain a token from the Token Issuing Counter.
04.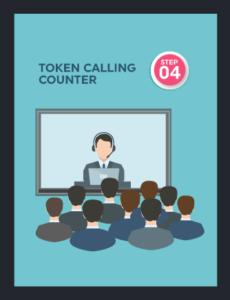 Go to the waiting area in the same room and stay vigilant for your number to be flashed on monitors.
Once your number is called, hand over your token to the clerk behind the desk who scan it and ask you to proceed to Visa Applications Acceptance Unit.
05.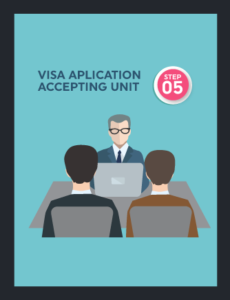 In here, there are 4 small office rooms labelled A to D and a waiting area where token numbers appear on a monitor as earlier.
Take a seat and wait for your number to be flashed on the screen and proceed to the relevant office room mentioned against your token.
The visa officer there will check your application, scan your passport and instruct you to do the payment at paying counters in Visa Division (where you started the process).
06.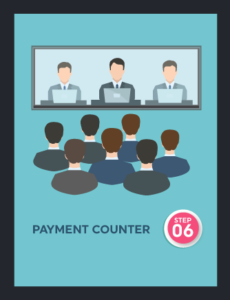 Head back to the Payment Counters and again wait for your token number to appear on the screen.
When your number is called proceed to the counter, hand over your token and pay the relevant amount for your country of origin.
You can either pay the equal amount in Sri Lankan Rupees by cash or in USD itself by credit card. Take your receipt and go to the Visa Issuing Counter.
07.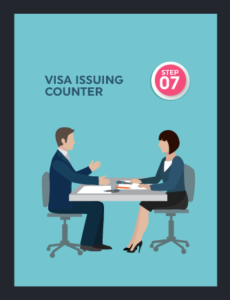 You will have to stay here for some time where your patience and entertainment options that you brought come in handy.
You can also visit the canteen, found in the first building you entered, to have a snack.
Check the monitors time to time and head to the counters up front when your number is called. Sign the release sheet and get your passport back.
08.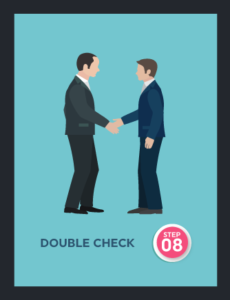 Make sure that the visa extension sticker is pasted on your passport. Double check the new expiry date and other details.
That is it! You have now earned yourself 60 extra days in Sri Lanka!
Thank you for reading our Visual guide to extend visa in Sri Lanka !
We hope you have a wonderful extended stay in Sri Lanka !!
Accommodation Option
If you are staying outside Colombo we suggest you come to Colombo the previous day and stay in a nearby hotel as you have to be at the immigration office as early as possible to avoid any hassle and get your visa extended within the day itself.
As a quality accommodation option nearby, we would like to propose, which is only 4km away from Immigration Office, for your consideration. Here, you will get a high graded hospitality & the team will help in many ways to get your work done.
DBL Room : 42USD (Morning tea + Snack included)
SGL Room : 32USD (Morning tea + Snack included)
Book your room > WhatsApp: +94 (75) 606-6645
Email : [email protected]
cool things to do while visa extension
When you are in Colombo for visa extension, as a traveller, your stay should be meaningful other than just spending your time for the extension. Here are some cool things to do while your visa extension process is going on.
Use this Link: 10 Cool Things to do around Immigration Office Colombo
Colombo Food Tour
Rustic Food Experiences
Visa Extension Gallery