COOL + UNUSUAL THINGS TO DO
You might have read countless articles, blog posts and travel guides to find out less touristy but cool & Unusual things to do in Colombo. you might not like to visit touristic places that don't show the core identity of Colombo. But having a cognitive realization of a foreign urban territory is not easy as well. Since the city contains both commercial and administrative capitals, traffic at certain times of the day can be exhausting, which makes finding appropriate routes challenging. Therefore, timing your visit and logically arranging the tour is of utmost importance to have a hassle-free and enjoyable journey. Beyond the obvious here are our alternatives,
01.

Market tour & Hands-On Cooking Class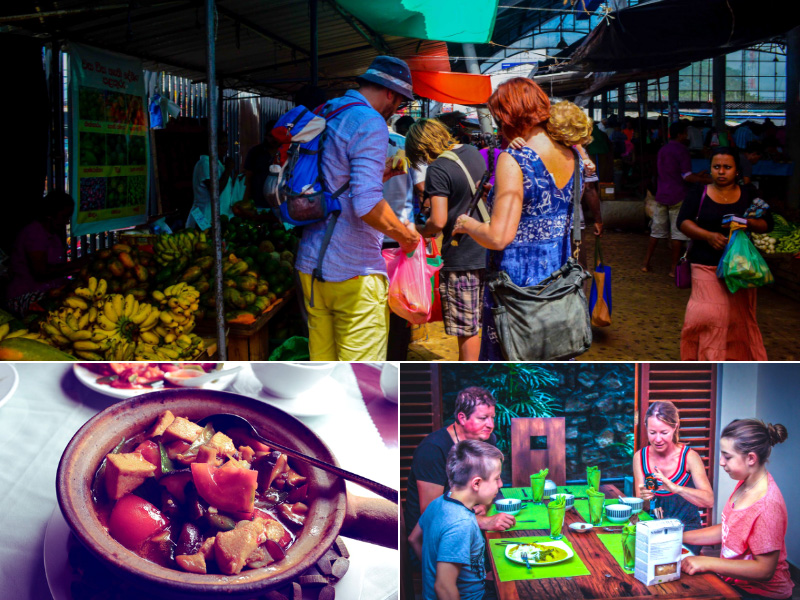 Cooking in a different country is the best way to get close to the culture and local etiquette – most of what you need to know is connected to the food practices. Everything you see in Sri Lanka, we owe to rice. This is often bought from a Sri Lankan market, which is similar to a European Eco shop. In cooking lessons, You will be involved in every step of the process: cleaning the vegetables, chopping them, preparing spices, etc. You will learn why certain vegetables are cut in a particular way, what spices will do to the curry, when to add coconut milk and how to decide the level of water for boiling rice. Of course, in general, we take more time than Europeans or Americans to prepare a meal, but you will never regret the time spent once you tasted the food.
Book via Bonappetour: Cooking Class Sri Lanka
Book via Cookly: Cooking Class Sri Lanka
Direct Web Page : Cooking Class Sri Lanka with Market Visit
Reviews on Trip advisor: Cooking Class Colombo
02.

Colombo Night Tour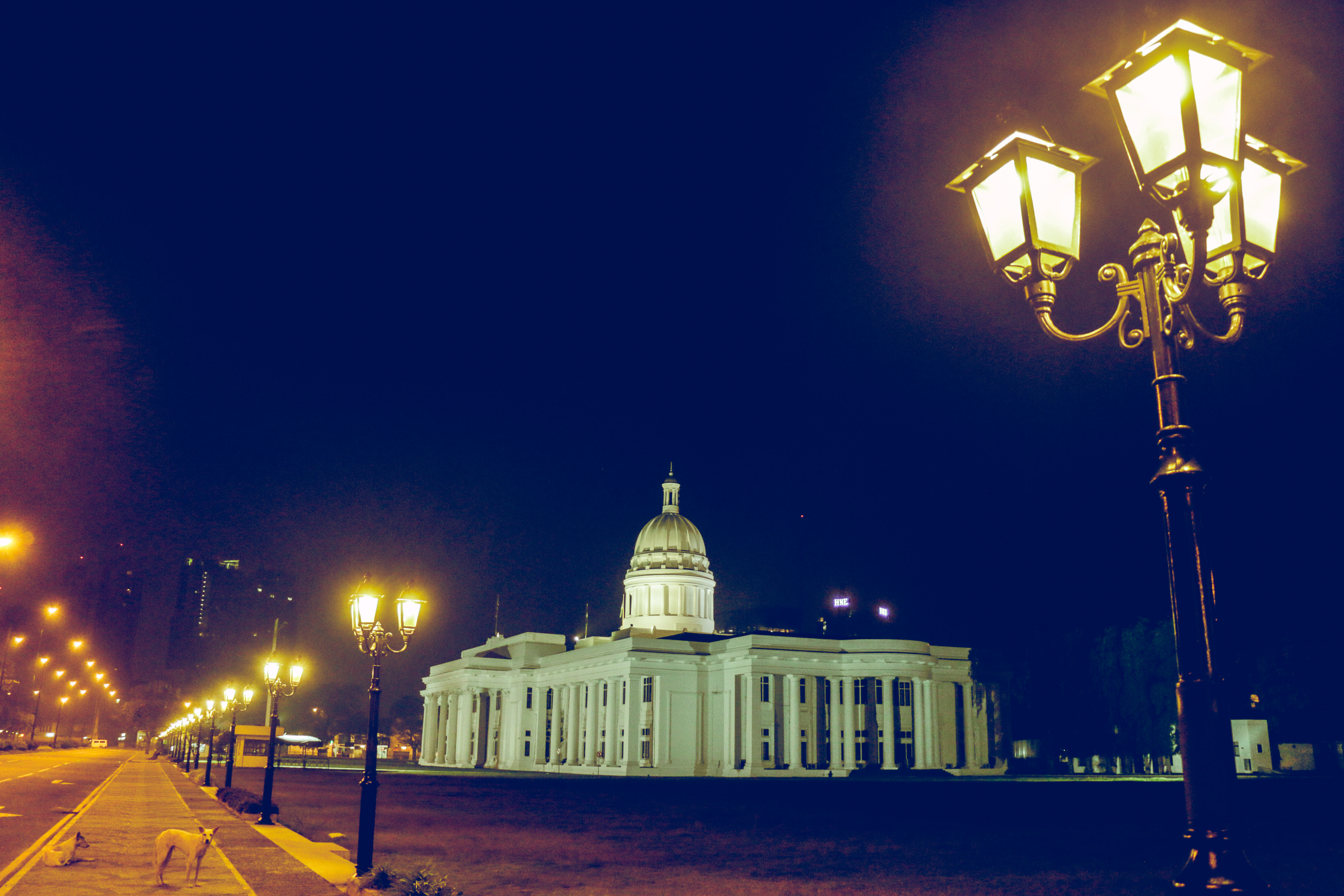 Soon before sunset, Colombo is at its best. The evening is the optimal time to observe evening rituals at sacred places. You will hear the buzz from the restaurants, see the beautiful sunset and taste the evening street food. You can select places and things to do as you please in order to make the most of the tour, using routes with less traffic to reach your destinations. Don't forget to visit few galleries in order to get an idea of Sri Lankan art that has been shaped by Sri Lankan culture. Colonial buildings give you an idea of how, historically, Sri Lanka has been colonized by three European nations.
Visit urban spaces and discover the relations between the urban setting and townies. You can end the tour with dinner at a local house while talking to senior citizens at the dinner table and tasting local beer.
Visit the Tour Page : Colombo Night Tour.
03.

Colombo Urban Birding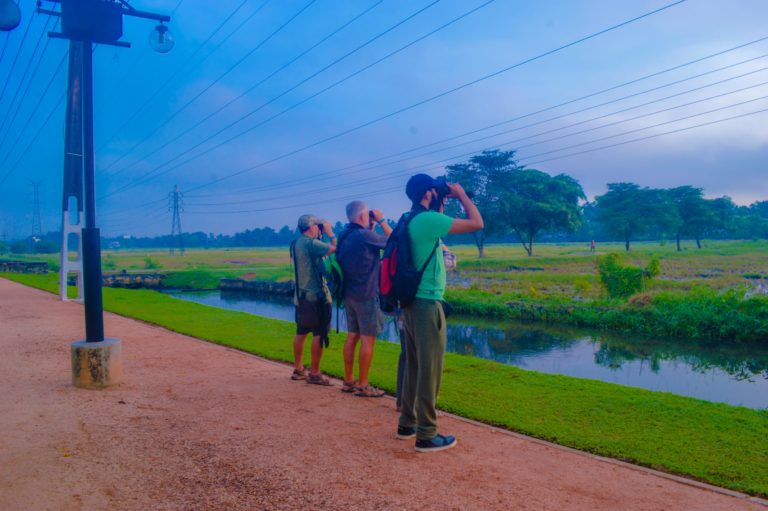 You will be surprised by the news that Colombo has more than 100 spices of avian beauties in a variety of vivid colors. Colombo has sanctuaries with extremely rich biodiversity which offer plenty of wilderness, sounds, aromas and sights of nature. Birdlife in the wetlands of Colombo is abundant, with over 10 endemic species and over 90 resident birds. In addition, from August to February, this area is popular among a large variety of migrating birds. While enjoying the exotic birdlife and listening to their humming, you can catch glimpse of natural water ponds with variety of lilies, marshes with seasonally flooding grasslands and scattered pockets of scrubs. The co-existence of a significant number of butterfly species and various wildflowers that provide nectar is another salient feature of the sanctuaries of Colombo.
Visit Web Page: Colombo Bird Watching Tour
04.

Diyatha Uyana, Food tasting & Nature walk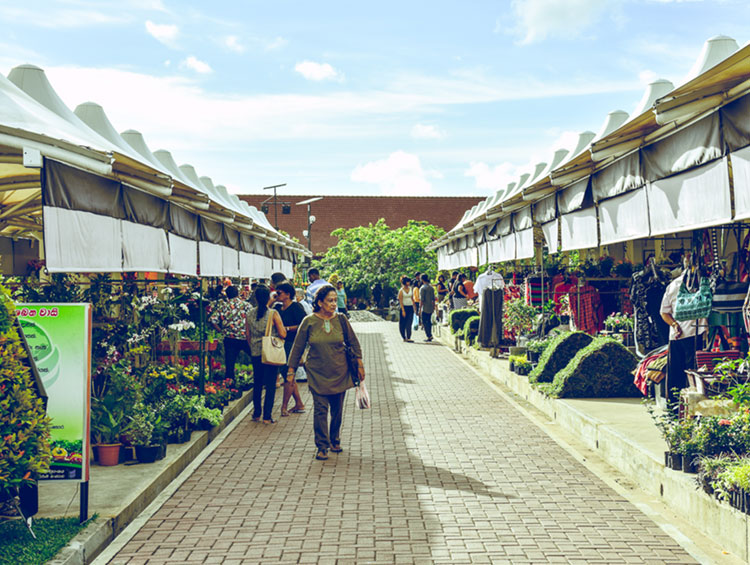 The best time to go is in the evening to avoid the hustle and bustle and feel the cool breeze. This is an urban leisure park (originally a wetland) built on the bank of Diyawanna Oya Lake. The park is popular among locals as a place to chill out in the evening – therefore, it is a great opportunity to experience the local culture. Diyatha Uyana consists of children's play areas surrounded by lush greenery. In addition, being a wetland, this park attracts many varieties of birds and butterflies. Further, to treat your taste buds, there is a series of outlets offering food ranging from street food to high-class restaurant food. The park is supplemented by the largest flower plant market in Colombo and an aquarium.
Get the Navigation: Google Map.

05.

Urban Wildlife with Kids & Family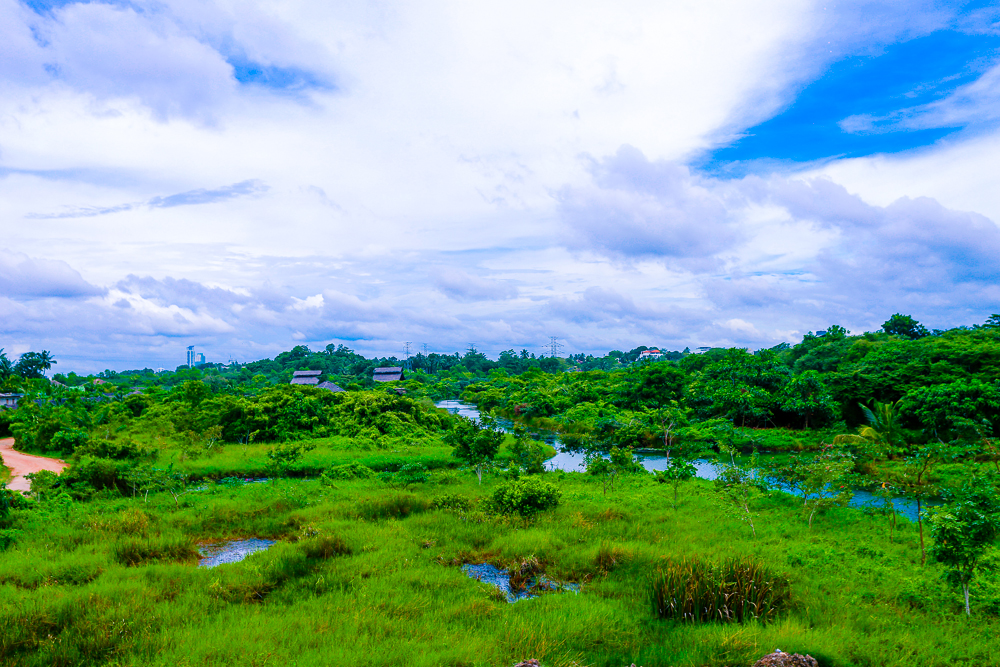 Colombo contains sanctuaries, freshwater bodies, wetlands, and mangroves as well as a huge variety of animals that have learned to live alongside us in the hidden corners of our urban habitats. It is not rare to see groups of purple-faced leaf monkeys on rooftops or at the top trees beyond the skyscrapers. The urban wetlands provide a thriving habitat for crocodiles, turtles, many species of fish, butterflies, land monitors and common mongeese. The last remaining paddy fields in Colombo are home to rabbits, snakes and Ceylon spiny mice. Ceylon jackals, big cats, and porcupines are also never far away after dark. Even deer can be spotted making a fleeting visit through urban forest or suburban garden. Another hidden world waits for you, and the Urban Wildlife Walking Tour is one of best ways to escape from the busy city.
Visit the Tour Page: Colombo with Kids & Family
06.

Cycling tour at New Parliament side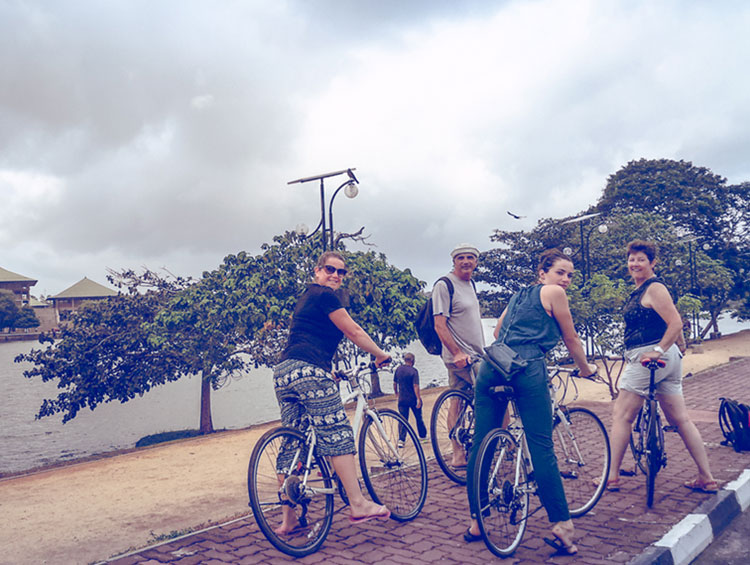 This is a cool photogenic area for cycling free from traffic congestion. You will hear birdsong while you feel the breeze of 'Diyawanna'. 'Ape Gama' is an authentic model village and an ideal place to experience Sri Lankan village life. You can observe many elements of local life in a village architectural setting. Every structure you find has a hidden meaning – with the help of the villagers, try to understand the different functionalities. Inside the village, you can find restaurants and an official government handicraft shop (most of the products are from faraway villages) while tasting Sri Lankan traditional herbal drinks. You can talk to villagers and listen to their oral performances, watch dancing, taste Sri Lankan sweets and many more. In the middle of the lake, you will see a building which is similar to an audience hall: it is Sri Lankan Parliamentary Complex, which was designed by the renowned Sri Lankan architect Jeffry Bawa. Having viewed the area on the ground and from the air, he proposed that the marshy Diyawanna Oya valley be flooded to create a lake of 120 hectares and that the new Parliament be built on a knoll of high ground, two kilometres south-east of the ruins of the 15-century citadel, on what would become an island at the lake's center. In addition, you can find many local restaurants around this area as well as the war memorial (Sri Lankan army officers will show you and explain the interior). The main entrance road to Parliament is beautified by the Sri Lankan national tree, noticed by the red color on the leaves – take a moment to click a snap and continue to Diyatha park.

07.

Colombo Fruit Market tour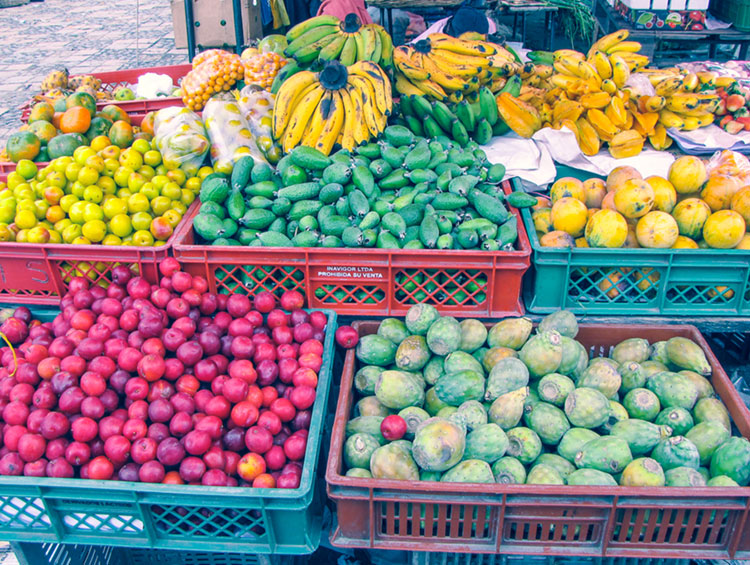 Similar to other nations, fruits are the oldest food of Sri Lankans too. As the locals turned to agriculture, they still cultivated fruit in their backyard. For that reason, we can easily find fruit in gardens in Colombo. Thanks to the island's climate and weather conditions, a huge variety of fruits are available at the market throughout the year. If you are curious about the Sri Lankan fruit culture and utilization of fruit in daily life, it is a great idea to visit one of the best fruit markets in Colombo. You can taste a variety of both wild and domestic fruits if you choose the right market at the right time. You will be amused by the different colors, shapes and tastes that you haven't experienced before – many of which can only be found in the southern hemisphere. Most of them have medicinal values, and it is worth eating them while you can, as some are not found anywhere in the world.
Visit Tour Page : Colombo Fruit Tasting Tour.
08.

Kalaniya Raja Maha viharaya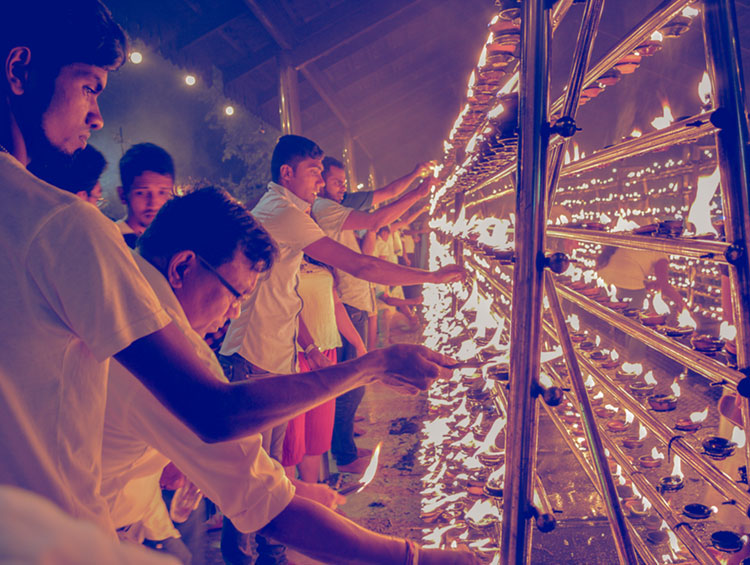 Kelaniya Temple is probably the most sacred and religiously important Buddhist shrine in Colombo. Buddhists believe that Lord Buddha hallowed the temple during his visit to Sri Lanka – therefore, the history of Kelaniya goes beyond 500 BCE. Chronicle history records that the Kelaniya stupa was built after enshrining the Gem-Stubbed throne on which Lord Buddha preached. The temple is also famous around the world for its image of the reclining Gautama Buddha and paintings by the native artist Solias Mendis, which depict important events in the life of the Buddha and history of Buddhism in Sri Lanka as well as incidents from the Jataka tales.If you visit the temple, don't forget to take flowers to pay your homage to Buddha.
Get the Navigation : Google Map.

09.

Kotte Raja Maha Viharaya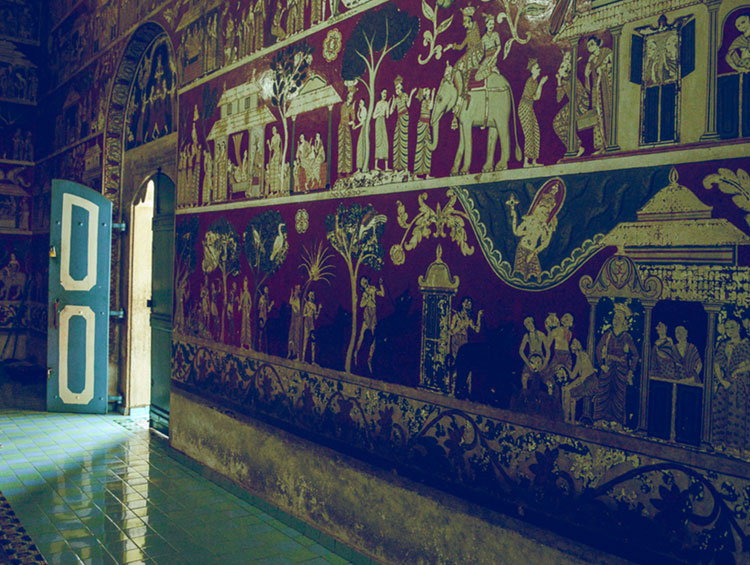 Many travel guides don't know about this, as it is not a common tourist place. Kotte Raja Maha Viharaya is an ancient Buddhist temple, built during the Kingdom of Kotte by King Parakramabahu VI (1415-1467). This hidden gem is situated away from the hustle and bustle of Colombo, although crowded with worshipers at any given time of the day. The atmosphere at the temple is soothing and you can feel peace and harmony within you from the moment you step into this sacred place. The king built this temple close to his palace to have easy access to religious activities carried out by monks on a daily basis. Unlike other Buddhist temples, this has an Ironwood tree instead of a Boo tree. It is believed that Prince Sapumal worshiped this tree before leaving for conquering the administration of Jaffna (Northerner Peninsular of Sri Lanka). From that day on wards, people worshiped this tree as a ritual before undertaking any major tasks. However, the temple was destroyed when Portuguese colonials took over Colombo. It was restored to the present condition in 1813.
Get the Navigation : Google Map
10.

Colombo Nocturnal wildlife tour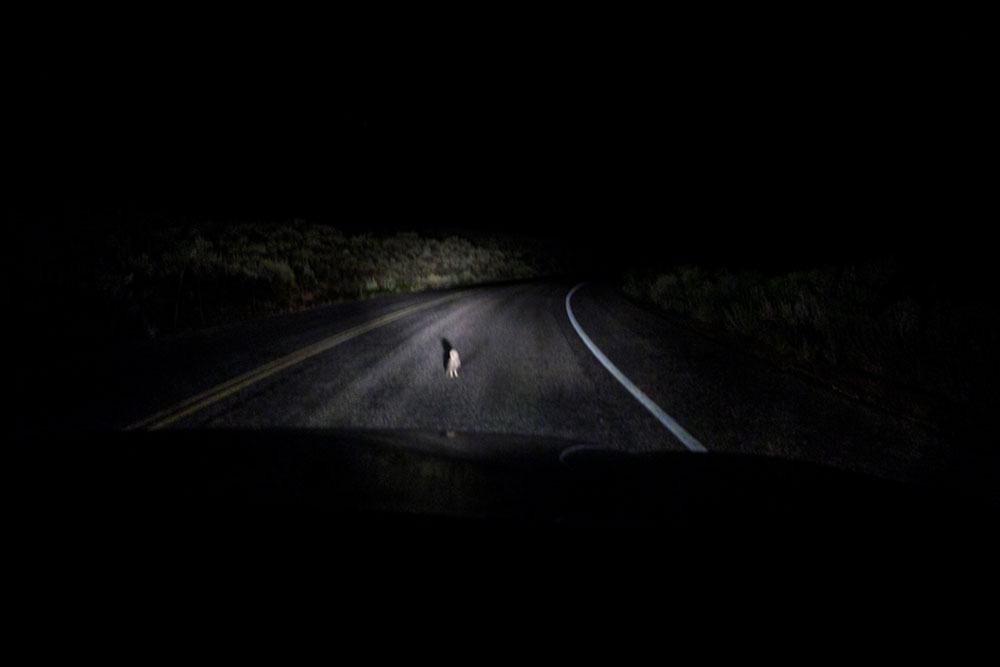 If you are looking for an experience beneath the moonlight in a tropical country to see the wildlife from a different perspective, this tour is for you. While the city is busy with crowds of people during the daytime, its nocturnal animals are activated at night. If you know where to go and what to look for, you will be surprised by the abundance of nighttime wildlife, especially in the city limit. When the city goes to sleep, you can spot animals that only come out at night, such as the Ceylon palm civet, porcupine, Ceylon fat bat and big cats. As the city will be free from traffic congestion, you can reach many places quickly to spot the wildlife.
Visit Tour Page: Colombo Nocturnal Wildlife Tour